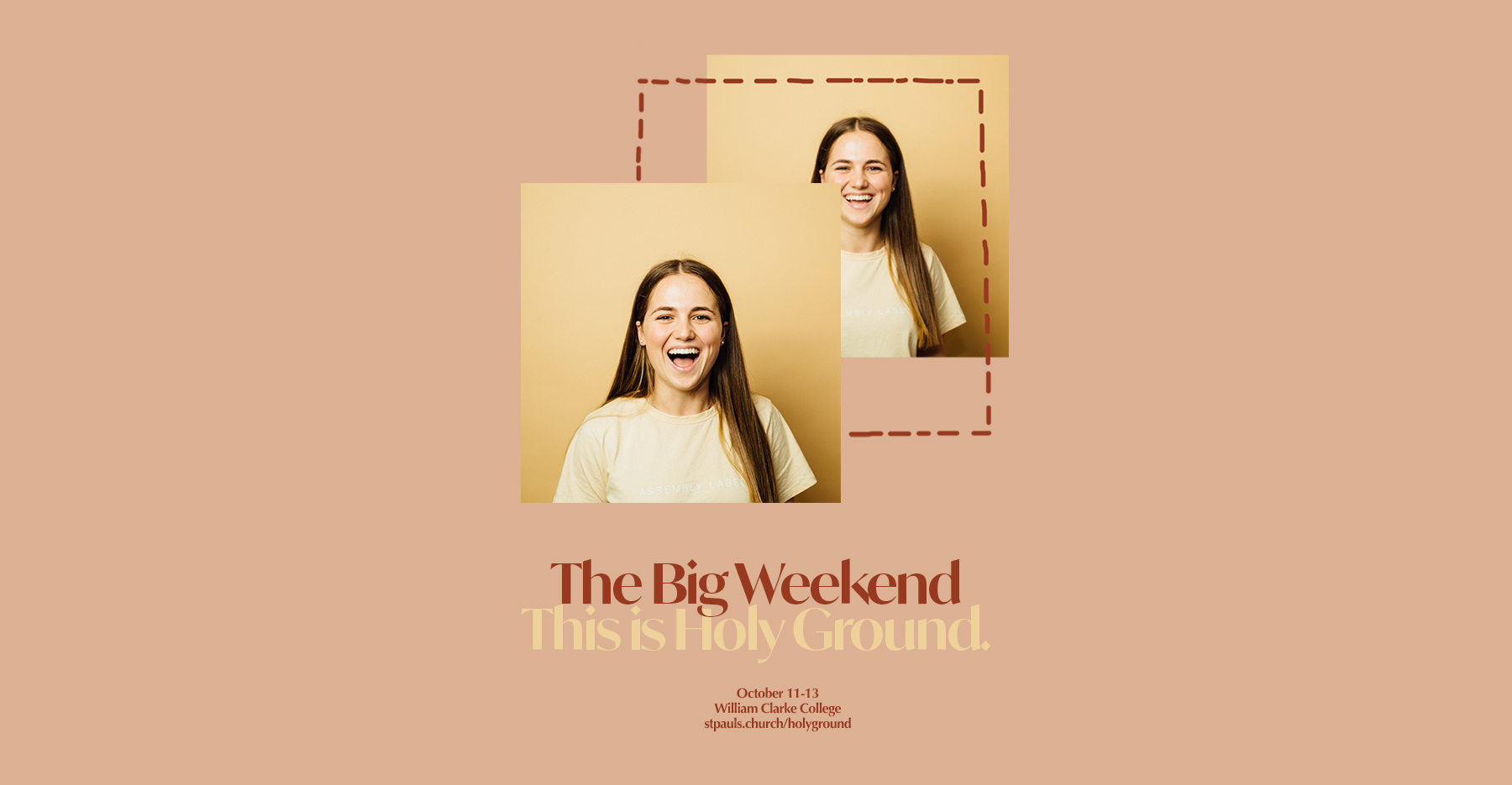 The Big Weekend - Holy Ground


October 11, 2019 - October 13, 2019




7:00 pm - 12:00 pm
God is calling a generation to be shaped, moulded and renewed to take holy ground, by being a holy people. By raising up a generation of holy people, set apart and called to stand differently. To speak, to lead, and to seek the face of God. He is setting apart a people to be a stake in the ground for the Kingdom of God, calling a people out of the world into holy ground. We will be that generation. This is holy ground. We are Holy Ground
Friday Night:
Opening session at 7:00pm
Saturday Morning:
Session from 9:00am, creative and leadership break outs through the day – morning tea and lunch provided
Saturday Night:
Session from 7:00pm
Sunday Morning:
Final session from 9:00am
Please contact rachael.nicholson@spch.org.au to request a sponsor ticket if finances are an issue.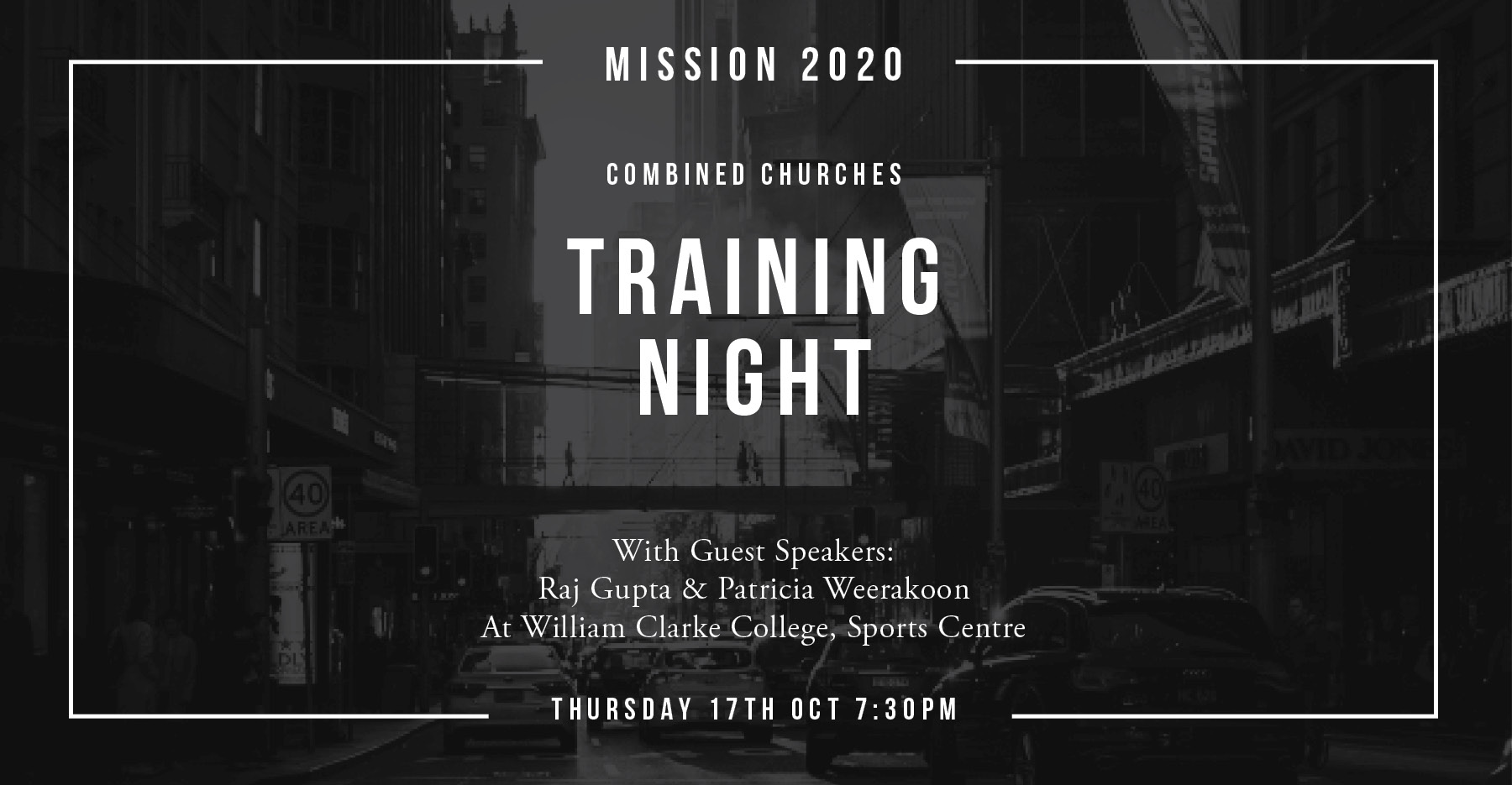 Mission 2020 Training Night #4


October 17, 2019




7:30 pm - 9:30 pm
Join us for our fourth Training Night of the year, as we continue to prepare ourselves for our upcoming Mission 2020. Gathering with members from churches all around the North West of Sydney, this time around we will be joined by our guest speakers Raj Gupta & Patricia Weerakoon as well as CityAlight. This time, we'll be meeting at William Clarke College in the Sports Centre.

Patricia trained in medicine in the University of Sri Lanka and did her postgraduate study in sexology at the University of Hawaii. She enjoyed a 25-year career as an academic at the University of Sydney. Her passion is educate people of all ages on good holistic sexual health by speaking and writing in the area from a Christ focused Biblical framework.

Raj Gupta Raj is the Lead Pastor at Toongabbie Anglican where he brings oversight and leadership to the team and church as a whole. He will be running training on 'follow up' for all churches as continue to disciple people who have made decisions for Christ.

Come for a night of teaching, prayer and worship.
Help at Home


October 26, 2019




7:30 am - 12:30 pm
Help at Home is a great day to care for those in our community and bless them through housework and gardening. We join together across ages, lifestyles and congregations to share the love of Christ together. Come along with your families, small groups and friends to get to know someone new and lend a hand. We're excited to see you there!
Regular activites
Sunday services
8am – Traditional service
10am – Family service
5pm – Youth service
7pm – Young adults service
KidsConnect
(Playgroup at St Paul's)
Tuesday and Thursday
During School Terms
Starts at 10am
Crossfire
Crossfire 68 (Youth Group, Years 6 to 8)
Friday nights in school term, 6pm - 8pm
Crossfire X (Youth group, Years 9 to 12)
Friday nights during school term
8pm - 10.30pm
The House
(Young Adults)
Sunday Night's after 7pm church
8.30pm til late
JesusClub
(For individuals with special needs)
Every second Wednesday
During school term
Starts at 6.30pm
Seniors Friendship Group
(For men and women 50+)
Meets the first Tuesday of each month
12pm - 2pm