RESOURCES
Latest News From the Diocese CLICK HERE
Latest NSW Government guidelines CLICK HERE
We are now back to meeting on-site for all 4 services: 8am, 10am, 5pm and 7pm.
24th February 2022
In line with the latest lifting of restrictions from the NSW Government (and confirmed by the Diocese), from Friday 25th February:
-Masks are no longer compulsory (but are encouraged for indoor settings where you cannot maintain a safe distance from others)
-No density limit
-No QR code check-in
For the latest news please visit https://www.nsw.gov.au/media-releases/nsw-government-update-to-covid-19-settings
15th January 2022
We are currently meeting for 3 services on site at 8am, 10am and 6pm. We will continue with these service times until further notice.
⁃ Masks are compulsory indoors for all services, and we will be encouraging people to have their post- church conversations outside
⁃ Our 10am service continues to be live streamed each week >> stpauls.church/online
⁃ For the 10am service, kids will be starting in the main service with their parents until the end of the first bracket of singing, and will then leave to participate in a simple kids programme. Our "normal" Kids Alive program will resume on Sunday 30th January.
31st December 2021
We are looking forward to gathering together in 2022!
We have been monitoring the current situation and wanted to let you know the following for this coming Sunday 2nd January:
⁃ Services will be in person on site at 8am (morning prayer), 10am and 6pm.
⁃ Masks are compulsory indoors for all services, and we will be encouraging people to have their post- church conversations outside
⁃ There will be no live stream this week. With many people on leave as well as some in isolation we are unable to facilitate a live stream at this time.
⁃ For the 10am service, kids will be starting in the main service with their parents until the end of the first bracket of singing, and will then leave to participate in a simple kids programme
We look forward to worshipping our gracious God together!
23rd December 2021
Click HERE to find out what is happening for Christmas
15th December 2021
With the easing of restrictions, we are happy to let you know that registration is no longer required for our services. Masks are no longer needed. You will just need to sign in with the QR code on arrival, as places of worship have been deemed high-risk settings.
*Certain businesses such as supermarkets and shopping centres will no longer need to display QR codes. Check-ins will still be required for higher risk settings including hospitals, aged and disability care facilities, gyms, places of worship, funerals and memorial services, personal services, pubs, small bars, clubs and nightclubs and indoor music festivals with over 1000 attendees.
30th November 2021
With the latest version of the NSW Roadmap, easing of restrictions previously planned for the 1st December have now been moved to the 15th December. At 95%per cent double dose vaccination target, or 15th December, whichever comes first, the following key changes will come into place:
Singing is allowed in places of worship with no masks required.
Worship teams and choirs of any size are permitted.
No density limit in the building, meaning pre-registration is no longer required. QR check-ins will still be required at high-risk venues including hospitals, aged and disability care facilities, places of worship and funerals or memorial services.
CLICK HERE FOR THE NSW ROADMAP
20th October 2021
Today we have released a Covid Roadmap outlining our return to in-person church services.
*THE ROADMAP HAS NOW CHANGED, PLEASE LOOK TO THE UPDATES ABOVE

*This has been developed in line with current NSW Health and Sydney Anglican Diocese guidelines, and is subject to change.
1st October 2021
You can almost feel the freshening breeze, can't you? The end of lockdowns and easing of restrictions are coming! Among other things we will, soon, be able to meet again, in person, in real time. To be sure, everyone is waiting for more details to come from the NSW Government. Even so, given what information we have in hand, Wardens, Parish Council and Staff have agreed we will open for church on Sunday November 7. This will give us time to ensure:
• all our facilities are cleaned and in order (we've not been in them for 12 weeks. Wardens and Parish Council have also engaged tradesmen to come in and repair ceilings, roofing and windows. The work has almost been completed!)
• all our systems and teams are in place to welcome and serve
• all our risk assessments and our COVID plans are current Some restrictions will remain in place. These seem to be (as of September 28, 2021):
• we'll be limited to 1 person per 4 square meters (about 100 in attendance)
• congregational singing will not be permitted
• masks will remain mandatory
• those not fully vaccinated will be allowed to attend
We will continue to live stream services. In fact, we want to do this way into the future so those living in remote areas, and those who are unable to get to a church for whatever reason, can still engage with God's people and hear His Bible being taught. With restrictions easing we will be able to re-launch our live sites. We'll update you when more information comes to hand. As I write, we are waiting to hear from our Archbishop (he normally writes to clergy on Fridays). Even so, the news thus far does lift spirits.
John Gray Senior Minister

Thursday 15th July
As per the lockdown extension, we are continuing to meet online only on Sunday 18th July and Sunday 25th July.
For the latest from the Government: https://www.nsw.gov.au/covid-19
Thursday 8th July
As per the lockdown extension announced by Gladys Berejiklian yesterday (7th July), we continue to meet online only this Sunday 11th July.
Wednesday 30th June
As per the latest stay-at-home orders, we continue to meet online only this Sunday 4th July. We have also chosen to meet online only the following week on Sunday 11th July.
As always, our points of reference are the NSW Government guidelines, in partnership with advice from the Sydney Anglican Diocese.
This week (today, 30th June) all clergy in our Diocese received a letter from Archbishop Kanishka Raffel, clarifying some of the restrictions as they apply to us in a church context.  From the letter:
We've received further advice from the NSW Government which has implications for live streaming church services while the "Temporary Movement and Gathering Restrictions" apply to Greater Sydney (which includes the Blue Mountains, Central Coast, Wollongong and Shellharbour).
The advice we have received is as follows:
1. Singing in places of worship
Under the current Public Health Order, singing is not permitted in indoor areas of places of public worship. This includes during a live stream, and in regional NSW. This is to protect people who may be involved in assisting in live streaming an event, for example technical assistance, or who may be in regional communities attending a service.
2. Do religious service leaders need to wear a mask while live streaming?
Yes. The requirement is to wear a face mask in all indoor areas of non-residential premises. This rule applies across the whole of NSW. A service leader may temporarily take off their mask to deliver a speech for accessibility reasons. For example to ensure viewers who may lip read are able to understand the service leader. As soon as they have finished their speech, the service leader should put their face mask back on.
3. Is there a limit to the number of people involved in live streaming a religious service?
In Greater Sydney the absolute minimum number of people should be present at the livestream in the place of worship.
Bishop Koo has been seeking clarity and making representations on our behalf…we have already raised with the NSW Government our view that a total ban on singing appears to be inconsistent with clause 14 of the Public Health Order. Should the lockdown continue beyond July 9, we will make further strong representations.
As per the above guidelines, we will run our live stream with the absolute minimum number of people required on site. We invite everyone to join us for our live stream at 10am, but remind you that you can access our videos anytime of day by visiting stpauls.church/online – where you will also find all of our latest videos from previous weeks.
Saturday 26th June
From Senior Minister John Gray:
Dear Brothers and Sisters,
The COVID Delta strain churn is impacting us.
Let me give you the headlines and then some details.
THE HEADLINES:
1. There will be no live, in situ, church services tomorrow (27th June) or next week (4th July).
2. We will live stream a service at 10am without a congregation, using a skeletal team.
3. Supaweek has been cancelled.
THE BACKGROUND DETAILS:
A number of factors had brought us to these decisions before the government issued stay-at-home orders at 2pm this afternoon. Now that the government has issued these orders, that becomes the major deciding factor.
– I (John) remain committed to doing all I/we can to protect the welfare of people at St Paul's. I also remain committed to us playing a role in the fight against COVID (the outworking of Romans 13 and 1 Peter 2:11-17, for example).
– The team who will serve us via live stream will be skeletal: only those who are absolutely necessary to ensure we can live stream. The church building will not be open to others.
– Supaweek has likewise been cancelled. If you have registered your children for Supaweek, please be advised that CRU will be in touch with you for further information regarding the cancellation.
We are using every communication channel available to let everyone know this information: SMS, email, SPCH Webpage, the tried and trusted grapevine, contacting all who have registered for services tomorrow and for Supaweek.
Please note that we will send further communication throughout the week and ensure you are all kept up-to-date. The best place to find information will be via our social media channels and on this page stpauls.church/covid19
Please pray God will have mercy on our world and city. Pray that this crisis will not cause people to turn from Jesus. Rather, that people will turn to him and find in Him an ever present help.
Yours in Christ's Service,
John Gray
Senior Minister
From 25th March:
We are now able to sing without masks from Monday 29th March
Venues move back to the 2m2 rule
Registration is still required visit stpauls.church/welcomehome
From 26th Feb:
The announcement from Gladys Berejiklian HERE
(Timestamp 2mins 10 seconds for the announcement re: singing)
From Feb 26, up to 30 song leaders/performers/choir members can sing indoors. They are to be 1.5 metres from each other, facing the same direction and at least 5 metres from the congregation. The congregation can participate in the singing, but then the 4m2 rule is in force and congregation members must wear masks to sing.
Registration is still required visit stpauls.church/welcomehome
If your regular service is booked out, we'd love to have you join us at one of our other services, make sure you check if there are still spots.
The latest from the Diocese HERE
From 12th Feb:
2 metre rule to return, increasing our capacity to 250 in the church and 250 in the CEC
Masks are no longer compulsory
Singing is still not allowed, apart from 5 worship leaders.
Registration is still required visit stpauls.church/welcomehome
The latest from the Diocese HERE
Update from Keith Baker on Saturday 2nd January
Hi Brothers and Sisters of St Paul's,
Happy New Year!
I wish I could be writing to you all with more positive news but alas, that is not the season we are in.
No doubt you will have heard our Premier announce the new restrictions today for NSW. The most pertinent for our purposes are:
churches are once again limited to 100
all those above the age of 12 MUST wear masks indoors ($200 fines can be issued for non compliance)
Given all this, we have reviewed the current registrations for 10am and 6pm services for Sunday 3rd Jan. Both of these numbers are currently under 100, which means, for this Sunday (3rd Jan) and until further notice:
8am service will go ahead as normal (all attendees must wear a mask).
10am service will go ahead with those who have registered allowed to attend live if wearing a mask. This service will be Live Streamed.
Kids programme will go ahead during the 10am service (all leaders will be wearing masks).
LiveSites can go ahead during the 10am service LiveStream, provided you have no more than 5 visitors attend your house (regardless of their age).
6pm service will go ahead as normal with those who have registered allowed to attend live if wearing a mask.
We will communicate further about following Sundays in due course.
Our God is still in control, and Jesus is still on the throne. Can I invite you to make 2021 a year of prayerfulness for our world and for the spread of the hope we have to share in the Gospel of the Lord Jesus Christ?
God bless,
Keith Baker
Acting Senior Minister
Letter from John Gray Wednesday 22nd December
Hello Everyone,
As promised here is my update on Christmas services (and, dare I do this, a forecast for January!).
There are three parts to this email.
First, my apologies:
Before I go any further, please accept my apologies for the distress I caused in yesterday's email.
I wrote:
"- Face masks, while not mandated, are considered essential. To quote the Premier from her briefing yesterday: "if you're in an indoor setting you need to be wearing a mask…particularly a place of worship"
This was not clear and I know it caused some of you distress. Face masks are not mandatory, nor are they "essential". I would have served you better if I'd written:
"While face masks are not mandated, we strongly recommend you wear one. This would be in accord with our Archbishop's direction in his letter to clergy dated December 21, 2020 and our Premier who said during her briefing yesterday,"if you're in an indoor setting you need to be wearing a mask…in particular if it is a place of worship"
We will therefore be strongly recommending that all adults and children 12+ should wear face masks during our services.
Second, Christmas Service:
Thankfully, there are no changes to the Government's restrictions and guidelines announced yesterday.
This means we can have congregations at our services!
We will also Live Stream both Christmas Eve services and our 9:30am Christmas Day service. We pre-recorded a Carols and Lessons service on Monday night (just in case we were not able to offer any service at all). This Carols and Lessons service will be streamed at 7:30am Christmas Day (and, along with all other services, will remain available on our St Paul's YouTube channel. If you, therefore, come to the actual, live service at 7:30am you can also watch the Carols and Lessons service on YouTube later. I have to say it is a particularly delightful service and well worth an hour of your time).
At this point let me reiterate what I wrote yesterday (with the edition I made above. Also, the following comes informed by our Archbishop working from The Public Health (COVID-19 Restrictions on Gathering and Movement) Order (no 7) Amendment Order (no 2) 2020 published on 20 December for Greater Sydney)
The current restrictions as they apply to Church are:
five (5) singers, only, COVID distanced, can sing from the platform
congregational singing is not permitted indoors. Though, if you watch our online service at home, you can sing "to your heart's content", to quote the Archbishop.
the 4m2 rule applies again which limits our numbers.
While face masks are not mandated, they are, to quote the Archbishop today,  "strongly recommended for all services of public worship". It may help you to know: I will be wearing a mask at all Christmas services except when I am speaking from the platform, which will be at a COVID safe distance from the congregation.
all other COVID guidelines are still in place.
If you booked for our Christmas services, please see the note below on registrations.
Third, a (daring) forecast for Dec 27 – January 31, 2021.
Sunday December 27
There will be one (1) service only: 8am.
This is aimed at serving our Production (sound, lighting, Video, camera, data) and our worship volunteers and staff. These men and women have served us extraordinarily well since COVID invaded our lives. Through their service, the rest of us have enjoyed a rapidly developing live stream experience that has helped preachers feed us. The quality of their ministries has been superb and was a key factor in St Pauls playing a key role in the Christmas in The Hills livestream event (available via St Pauls Youtube channel).
Hosting one service on December 27 will serve these volunteers and staff. The break will be well received by them and their families.
January
We will (hopefully) go into our normal January pattern: services at 8am, 10am and 6pm.
We will live stream 10am, only, throughout January.
Our hope and plan is that from February 7, 2021 we will return to all four services: 8am, 10am, 5pm and 7pm!
If I do not have the opportunity to speak with you personally over the next few days, may you and your family/home, be deeply refreshed by the message of the Saviour born to you! I hope you get a break – even if a momentary one.
Yours in Christ's Service,
John Gray
Senior Minister
AN IMPORTANT NOTE ON CHRISTMAS REGISTRATIONS:
Unfortunately, as you have no doubt heard by now, the NSW Government has changed the conditions under which places of worship are allowed to gather.
(Conditions as per above)
If you have registered for one of our events, please look out for an email from our events administrator Rachael Nicholson, and respond accordingly. If you have not received this email yet, please note you will get it in the next few hours.
Bear in mind that the 5pm and 8.30pm Christmas Eve services, and the 9.30am Christmas Day service will be live streamed on Youtube and via our Facebook page.
Thanks for your understanding, patience and assistance with us as we seek to best serve all the people who wish to worship the Lord Jesus this Christmas at St Paul's.
Letter from John Gray Tuesday 22nd December:
Hello Everyone,
No doubt you've been keeping up with our Premier's Briefings these last two mornings.
Tomorrow's briefing will be a significant one, I suspect. I will, therefore, send you another email tomorrow.
Until then I thought I'd let you know where things stand for St Paul's as of today.
At this point in time we are planning to continue with Christmas Services as publicised. 
There are, however, some changes to what we can do when we meet.
These are as follows:
– Five (5) singers, only, COVID distanced, can sing from the platform
– There is no congregational singing
– The 4m2 rule applies again which limits our numbers. If you booked seats for Christmas services you will receive an email shortly from Rachael Nicholson. Please respond to it promptly. This will help us serve as many people as is possible. Thanks!
– Face masks, while not mandated, are considered essential. To quote the Premier from her briefing yesterday: "if you're in an indoor setting you need to be wearing a mask … particularly a place of worship"
– All other COVID guidelines are still I place.
Our Archbishop, Glenn Davies, wrote to clergy and Wardens yesterday, "There is a very real possibility that Greater Sydney could be in a state of lock-down over Christmas, and churches should have a contingency plan for online services." We are making all our Christmas service plans with Glenn's words in mind.
I will update you via email tomorrow afternoon.
Yours in Christ's Service,
— 
John Gray
*Monday 21st December – please note we are yet to have a decision in regards to what will be happening for our Christmas Eve and Christmas Day services this week – in line with health advice and recommendations from the Diocese, we will update you later in the week.
LATEST UPDATE FROM SENIOR MINISTER JOHN GRAY
Saturday 19th December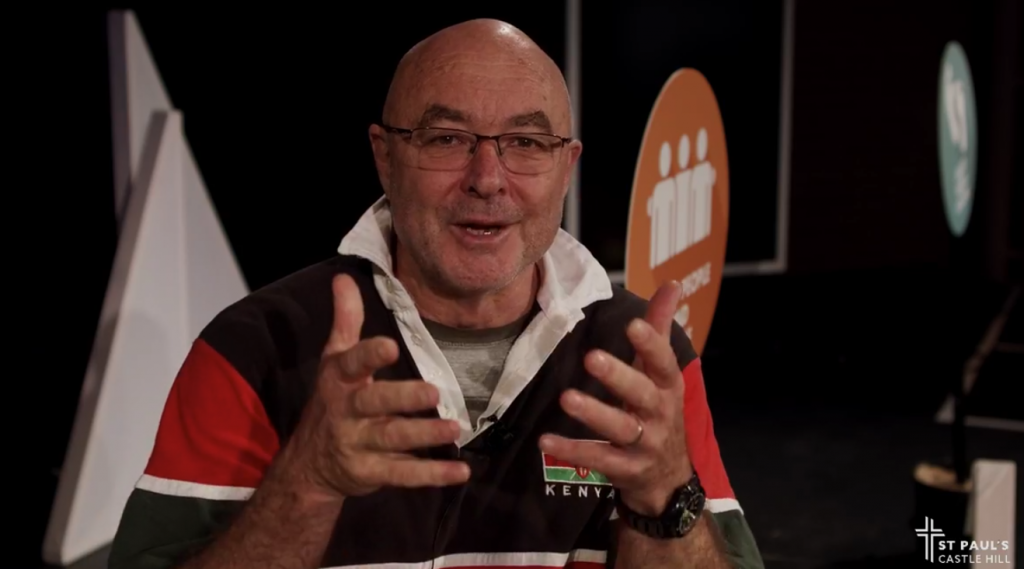 Dear Brothers and Sisters,
What an end to the week!
This morning (Saturday Dec 19, 2020), the Premier pleaded with residents
"of Greater Sydney please, please do not go out tonight or the next few days unless you really have to. Please don't leave your home unless you have to. Obviously do the basics … limit your activity."
With this in mind, along with our concern for people's health, tomorrow's church services and St Paul's Live sites are cancelled. This decision was not taken lightly. Senior staff, The Wardens and Parish Councillors were consulted and came to a unanimous mind.
We hope and pray this will mean we can open for Christmas Services should this COVID outbreak be brought under control. We will still offer a Live Stream of 8am and 10am services but we will not have congregations present. Please join us via our YouTube channel tomorrow. This will enable us to go on navigating COVID somewhat together. As intrusive and as wearying as this latest outbreak is, I've no doubt our patient engagement will serve everyone.
COVID is relentless. We must not be complacent. COVID also intensifies our longing for The Day when all illness and all sin and evil will be no more (Revelation 21:4-7).
Til then, let us encourage one another in our households and friendship circles all the more as we see that Day approaching (Hebrews 10:24-25).
Knowing our God, Father, Son and Holy Spirit, is still Sovereign will settle our souls (Psalm 46).
Yours in Christ's Service,
John
1st April
While COVID-19 continues on I am proud of our Archbishop, Bishops and their teams. They are in the thick of conversations with the NSW Attorney General, relevant parliament ministers, the Diocesan legal team and the Prime Minister.
They then "translate" information making it available to us all via sydneyanglicans.net.au. Their FAQ pages are updated daily, if not twice a day. In addition, Our Archbishop writes to all clergy weekly with further updates. He, and now our bishops, also send video messages to us. You can view Gary Koo's video message here. Glenn even took time to contact me yesterday with respect to our live streaming of Matt Keller's ordination (Tues March 31). He assured me what we did last night was in accord with Federal and NSW government guidelines as well as a personal call he had had with the NSW Attorney General. What he and they are doing is of enormous value to us.
I study the Diocesan updates once or twice a day, look at the Federal Govt COVID-19 app (free for all citizens to download), talk with our staff team and then, with them, figure out our next step. We will continue to, therefore, offer a 10am Sunday service and Crossfire on Friday nights via live streaming while all the sources we study grant permission. We'll also continue to offer: two short devotions each week from our teaching team, devotions from our Youth and Young Adults teams, and our Generation podcast
We are trying to figure out how we might offer a children's online program. Currently, Matt Keller has now moved to Melbourne, Naomi Pigot is in much deserved maternity leave, our tech teams are a little stretched but also getting into a rhythm. Stay tuned. In the meantime, we will list children's resources for parents and grandparents to access. The first of these is from Compassion https://www.compassion.com.au/colin-buchanan
PLANNING FOR THE DURATION
The PM, Premier and others are right. COVID will not be over by Easter. I encourage you to, therefore, develop a serious 6 month plan. Purchasing jigsaws and games are a start – they are only a piece of the puzzle (to channel Keith Baker). Daily rhythms and weekly routines are vital to your whole well-being: physical, mental, psychological, spiritual and, let me say, social. Our spiritual ancestors knew this, as does our Heavenly Father and Lord Jesus. Which is why we read, for example, in Exodus, Numbers, Leviticus, Deuteronomy that our God instructed his people to observe certain rhythms.
There were weekly, seasonal, annual and even a 50year event to be engaged in. Each reminded God's people their lives were intimately connected to the LORD, that his word is what sustains them, and that he was their provider, comforter, guide and Shepherd.
We even catch Jesus practicing these rhythms. Luke 4:13 tells us his habit was to be in synagogue (what we call church), each week; he rose early to pray; he clearly knew the Scriptures because he had been reading and meditating on them all his life, just as Psalm 1:3 called him to do; his mode of transport was shank's pony (as my Pa would say. Shank's pony means walking for you use your shanks …) which means he had plenty of exercise. Walking and resting meant he had time out from being connected 24/7. (If ever anyone "needed" to be connected to "run his world", it was Jesus. But we see him taking time out to rest and pray and, I suspect, play)
With all this mind, if you want to be in a better, all-round condition in 6 months time, let me encourage you to:
Establish a daily appointment with our God.
This will feed your mind, sure up your heart and quieten your soul. It will also remind you that you are not alone. When we read God's Word, meditate in it and pray, we are, in reality meeting with all three members of the eternal Trinity. You meet with our Heavenly Father, our Older Brother, Jesus, and the Spirit of God. You will then be able to weather whatever this next 6 months throws at you. My aim is to be much closer to our God in 6 months time. My plan is to meet with him daily to read, mediate and pray. REAP is my tool of choice.
Establish a daily catch up with your family/household
Plan to share one meal a day (or at least a few a week) with everyone or talk with them: Zoom in, conference call. Disconnect from everyone else and focus on your family/household. Our family shares the evening meal. My plan is to enjoy all the food Robyn and up daughter, Emma, cook up. My hope is they enjoy what I cobble together.
Establish a regular something else to fill your tank.
I have a stack of books to read, as Robyn does. Maybe for you it's wood turning, working on your car, painting, tapestry, knitting, drawing…whatever fills your tank get into it.
Establish regular exercise.
All the guidelines for walking, running, body weight training are freely available. Find what suits you and engage. My goal here it to be fitter in 6 months time. My plan is to do body weight exercise three times a week.
Establish connections with others
I'll do this with my small group, Wardens and PC, and staff and even extended family via Zoom (Mazda ought sponsor me here).
If you're an extrovert: form an extroverts Zoom meeting! Really, connect with all the extroverts you know, and often. Of course, connect with introverts, but if I may be so bold, not as often. The intros value a little space. Mind you, intros do need an extro or two or three from time to time.
If you're an introvert, be kind to the extros who value you. I suspect they value your (quiet) wisdom and take on life.
Drink more coffee
For those who imbibe…we have Malaccis coffee for purchase. 500gm bags of ground coffee are $10. 1kg bags of beans are $35. You can order by emailing my PA, Annette Duncan on annette.duncan@spch.org.au. Annette is in the office Tuesday through Thursday. She will be more than happy to receive and process your order.
The coffee you purchase will help us buy the freedom of whole families imprisoned in bonded, generational slavery.
18th March
Dear Brothers and Sisters,
No doubt you are as across the latest COVID-19 news as anyone. Anticipating today's news, our Wardens and Parish Council took decisions last night that affect Sunday Services and most, if not, all our ministries. Though this whole era is weighing on me/us, I am somewhat comforted by our Archbishop's media release today and his accompanying letter to all clergy. All of us in agreement: Sunday services need to be suspended until further notice, ministry gatherings need to be limited, weddings and funerals will also be affected. Further There Is Hope is impacted.
I want to address each in turn. Feel free to skim though to the area you are most interested in.
A WORD TO SOME IN PARTICULAR
If you work in the health, care, police, ambulance, fire brigades, RFS, SES and the like: thank you! Your care for our vulnerable and needy is very God-like. I/we do not take for granted what you do. If you work in a supermarket or the like I hope you have not had to endure abuse. Though, if you have, and if you can, remind yourself that you are much loved by our Father and older brother, Jesus. Remember they have given to you the Comforter and so quieten your soul before our God – more on how we all might do this below.
Our sources continue to be…
those either working on NSW Heath teams or in direct contact with them
The Archbishop of Sydney
Our Regional Bishop, Gary, who was a GP and is tasked with communicating with NSW Health
SUNDAY SERVICES
We will be live streaming a service on Sundays from this coming Sunday, March 22, 2020. It will be live at 10am. It will be available via video on Facebook, YouTube and via our website
This avenue will allow you to engage with your family/house mates in the comfort of your own home. We will offer this until further notice. We are throwing everything we have to make this Sunday work. Next week we'll review what we did and then make improvements as we go. Thank you for your patience.
KIDS, YOUTH AND YOUNG ADULTS
The Archbishop has advised that these ought to cease meeting. Pat Jones and Matt Keller are working on online options. We'll send you information as we are able. Sam Haywood is working on options for our Young Adults community.
MIDWEEK MINISTRIES
At this stage I encourage you to use your wisdom. Taking into account social distancing as defined by NSW State health, if you, and those you meet with, think you can meet the criteria then you are free to meet.  If you are unsure then there is freedom not to meet. One small group I know of met via Zoom last night and found it helpful…more info on zoom here
WEDDINGS AND FUNERALS
Sadly, these are also impacted. Congregations need to be limited to less than 100. This will be very distressing to many but we will do our level best to serve any and all.
PASTORAL CARE
As a church we want to ensure that everyone has access to care and support during this time. Most of the care will be coordinated through our Small Groups network. Small Group Leaders will be receiving additional resources to help them encourage and care for their group members during this time.
We are particularly concerned for those outside these support structures, and who are vulnerable or self-isolating during this time.
If you are in need of pastoral support or know of someone in this situation, please contact our Care Minister Jo Gibbs at the church office on 8858 1111 or email care@spch.org.au and one of the care volunteers will be in contact by phone.
Additionally, our office will be staffed every day, and you can call us on 8858 1111. A minister will be available each day between 9:30-4pm, and on Sundays whoever is preaching will be available for pastoral support.
GIVING
Our staff will continue to serve and minister to people in this very new day. We are working on ways to do so via social media and other online mechanisms as well as via phone and, where possible, visiting and other face to face contact.  We also want to continue our support of our missionaries. With these things in mind, while your current financial position remains stable, can I urge you to continue with your financial commitments to SPCH? However if your financial position changes, there is freedom to adjust your giving accordingly.  If you regularly giving by cash would you set aside your regular offertory each week and over the next week we here in the office will figure out a way to receive it from you. If you'd like to move to direct deposit please do so.
Our details are:
Name: St Paul's Church Wardens Account
BSB: 032 173
Account #: 871 775
Thank you, in advance, for your ongoing generosity. It will help as we continue to minister and serve.
THERE IS HOPE MISSION 2020
After much discussion at our meeting today, all 12 church leaders have concluded that it is better to postpone There is Hope to 2021. For your encouragement, as we have commenced discussion with our speakers, the majority of them have told us they are prepared to speak again next year, and we are just waiting to hear from a few others.
Our Archbishop Glenn Davies has also kindly agreed to be part of a livestream on Easter Sunday, and we look forward to updating you shortly on what form that will take.
SOME FINAL COMMENTS
If you'd like to read the Archbishop's letter you can access it here
Finally, with all this disturbance to life the best place to anchor yourself to is Jesus Christ. Maybe you might like to join me in a practice I've been getting into? I use an app called Daily Prayer (free) which is, in reality, the Anglican Prayer book online.
This morning before coming in the engage with all COVID-19 material I took time to prayer through and read morning prayer. The app splices in daily Psalms and Bible readings along with daily prayers and regular prayers. I needed to be led in prayer this morning. This app led me. As I read and pray mindfully I find my soul is quietened. I find I am fed and renewed. I find a renewing so I can enter the day. Using this app also reminds me I am praying with perhaps 10s of 1000s of other believers at the same time. There is no doubt they are also using the app. In a certain way, therefore, I am not isolated from others but am part of the world wide church of God praying together and reading God's word together, I commend Daily Prayer to you. If you'd rather a real prayer book in your hand, let us know. We have some "green prayer books" you can take and use.
As we navigate this era now, together, join me in keeping your hope in Christ, prayerfully lean into him for he is still the Sovereign who loves us each beyond measure – even if we do not feel that right now.
Yours in Christ's Service,
John Gray